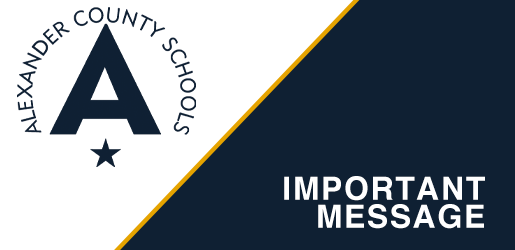 General Enrollment Information:

Welcome to the Alexander County Public Schools Online Application for Student Enrollment!
The information reported in this application will become part of your child's cumulative school record. Student record information will not be released to third parties or used for purposes other than routine daily and/or emergency contact needs without the knowledge or permission of parents, legal guardians, or students who have passed their eighteenth birthday, except in accordance with the law.
Only a parent or legal guardian may enroll a student in Alexander County Schools. Proof of Guardianship can include a birth certificate, divorce papers, Social Services paperwork, or paperwork signed by a judge awarding custody.
Remember to inform school staff of any special needs your student may have (504 Plan, IEP, AIG, special health care needs, special education, etc.)
All applications will be processed electronically and checked for accuracy. Any falsification of information may result in your application not being processed and/or denied.

*Please also note that this website is optimized for IE 10.0 and higher, Safari, Chrome and Firefox.
Available for 2023-2024 School Year
Available for 2022-2023 School Year
---
Alexander County Schools Online Student Enrollment Information:
We would like to welcome you and your child to Alexander County Schools! Please read through the information below to identify the documents required for enrollment. Complete all forms within this online application in order to ensure a prompt enrollment for your child.
Proof of Age
Up-to-Date Immunization Record
NC Health Assessment Transmittal Form
Photo Identification of the Parent/Legal Guardian
Proof of Residency
Legal Documentation - Such as Custody or Guardianship
If your child will be taking medication at school, please upload a completed medication form which can be found HERE
As a school system, we recognize that each child is a unique individual. The information you provide to us is important in helping us to fully understand your child's strengths and needs. Thank you for allowing us this opportunity.
---
Enrollment Documents:
PROOF OF AGE
Birth Certificate
Passport
Driver's License
UP-TO-DATE IMMUNIZATION RECORD
By law, this must be received within 30 calendar days of enrollment.
If documentation is not presented within 30 calendar days, the student shall be excluded from school until proof is presented.
NC HEALTH ASSESSMENT TRANSMITTAL FORM
For all students new to North Carolina Public Schools.
By law, this must be received within 30 calendar days of enrollment & requires the signature of a licensed physician.
You can find a copy of the form HERE.
PHOTO IDENTIFICATION OF PARENT/LEGAL GUARDIAN
Valid North Carolina Driver's License OR Valid North Carolina Identification Card
Valid Military Identification Card
PROOF OF RESIDENCY IN ALEXANDER COUNTY
Items that may be used for Proof of Residency:
Utility Bill such as Electric, Cable, Phone or Water Bill (Cell Phone Bill is not accepted)
---
For More Information, Contact:
Alexander County Schools
700 Liledoun Road
Taylorsville, NC 28681
Phone: (828) 632-7001
For Technical Support Contact:
Scribbles Software
Email: help@scribsoft.com


---
Business Hours (By appointment only)
Monday - Friday
8:00 AM - 4:30 PM